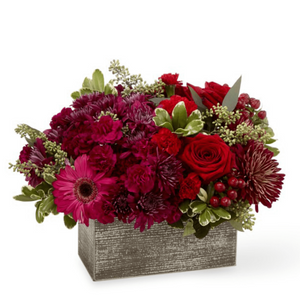 Sometimes a touch of rustic charm is all you need to bring a space together. With rich berry hues, red roses, mums and carnations are complemented by accents of fuchsia and purple for a bold bouquet, all set in weathered, wooden rectangular box.

A great gift for a co-worker or a beautiful addition to a cabin, hotel or B&B weekend!

Flowers of Gatlinburg specializes in unique, organic, and beautiful garden style arrangements. We try our best to source local flowers when available. so when you send a gift to a loved one you are making the sustainable choice.
Picture show the style of arrangements that we do. Not stock photos.  See more of our work here.